Full Service Fabrication and Welding

---
Fabrication
We can weld and gather successfully created pieces from an assortment of sources or we can shape, cut and collect a custom piece starting with no outside help.
Repairs
All materials can become worn and break down. Regardless of whether it is rust or broken, we can assist you with evaluating where repairs can be made or if an item needs to be replaced-90 Day Warranty Guarantee
Replacement
When a part of a piece of equipment is inoperable, usually we can reproduce and replace any metal piece or object to get it back operational i.e. cutting and replacing rusted sections on metal cylinders, stairs, walkways or scaffolding, etc.
On-Site Inspection
Whether it's deteriorating or broken, one of our Experts will come to your location. We always offer a Complimentary Inspection and Written Job Estimate.
Custom Services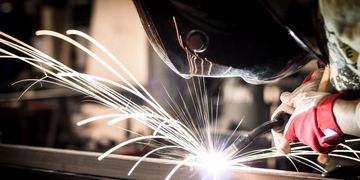 We make Stair Railings and Staircases whether straight or spiral, Entry Gates, Fences, Signs, Tanks, Piping, Ramps, Display Shelves and Special Fasteners; plus experts in state of the art Welding, Forming, Rolling Tube Steel, Flat Plate, Angles, Sawing, shearing, Plasma Cutting, Lathe work, Drill Punching, Aluminum ~ Stainless Steel and Tig Welding.
Job Performance
Clients have requested custom jobs, for example; ramps, walkways, racks or different things to be utilized to help support, move or house heavy equipment such as motorbikes or construction objects.